calendar
01.20.17 - LESSON 1
02.20.17 - LESSON 2
03.21.17 - LESSON 3
03.22.17 - GABRIELE GEMINIANI
03.23.17 - GABRIELE GEMINIANI
05.12.17 - LESSON 4
06.19.17 - JENS PETER MAINTZ
06.20.17 - JENS PETER MAINTZ
06.27.17 - LESSON 5
07.10.17 - LESSON 6
09.11.17 - LESSON 7
10.18.17 - LESSON 8
10.19.17 - ASIER POLO
10.20.17 - ASIER POLO
12. 1.17 - LESSON 9
12.22.17 - LAST LESSON
Teachers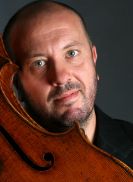 Enrico Dindo
Enrico Dindo, was born into a family of musicians.
At the age of six he began studying cello and afterwards graduated at the "G. Verdi" Conservatoire of music in Turin. Later on, he perfected his studies with Egidio Roveda and with Antonio Janigro.
In 1987, at the age of 22, he began performing as principal cellist in the Teatro alla Scala Orchestra, for eleven years until 1998.
In 1997 he won the First Prize at "ROSTROPOVICH" Competition in Paris, the great Russian Maestro wrote about him: "he is a cellist of exceptional qualities, a complete artist and a formed musician, with an extraordinary sound which flows as a splendid Italian voice".
Since then, he began the soloist activity performing in many countries, with prestigious Orchestras such as the BBC Philharmonic Orchestra, the Rotterdam Philarmonic Orchestra, the Orchestre Nationale de France, the Orchestre du Capitole de Toulouse, the Filarmonica della Scala, the Orchestra Sinfonica Nazionale della Rai, the Orchestra dell'Accademia di Santa Cecilia, the St. Petersburg Philharmonic Orchestra, the State Orchestra of Sao Paulo, the Tokyo Symphony Orchestra, the Toronto Symphony Orchestra and the Chicago Symphony Orchestra. He also performed with important Conductors such as Riccardo Chailly, Aldo Ceccato, Gianandrea Noseda, Myung-Whun Chung, Daniele Gatti, Paavo Jarvj, Valery Gergev, Riccardo Muti as well as Mstislav Rostropovich.
He was guest in numerous Festivals and Concert halls of the whole world among which London (Wigmore Hall), Paris Evian, Montpellier, Santiago de Compostela, participating at the Budapest "Spring Festival", at the Settimane Musicali of Stresa, and at the White Nights Festival in St. Petersburg, and he was invited at the Dubrovnik Festival and by Gidon Kremer at the Lockenhaus Festival.
In May 2000 the Associazione Nazionale Italiana Critici Musicali (Italian National Association of Musical Critics) confers him the "Abbiati" Prize as the best soloist of the 1998/1999 Season. In August 2004 he was named overall winner of the SixthInternational Web Concert Hall Competition, and in November 2005 the President of the Italian Republic Carlo Azelio Ciampi awarded him the "Vittorio De Sica" Prize for the music.
Among the authors that composed music dedicated to him there are Giulio Castagnoli (Concerto for Cello and double Orchestra), Carlo Boccadoro (L'Astrolabio del mare, for cello and piano and Asa Nisi Masa, for cello, two horns and strings), Carlo Galante (Luna in Acquario, for cello and ten instruments) and Roberto Molinelli (Twin Legends, for cello and Strings and Crystalligence, for cello solo).
In December 2001 he founded The Chamber Ensemble "I Solisti di Pavia"
In Febrary 2014 he's nominated Musical Director of HRT Symphony Orchestra in Zagreb.
Enrico Dindo records for Decca and plays a Pietro Giacomo Rogeri cello of 1717 (ex Piatti), confided to him by the Pro Canale Foundation.
ASSISTANTS
JACOPO DI TONNO e ANDREA AGOSTINELLI

---

Gabriele Geminiani
Born in Pesaro he graduated with honors, honors and honorable mention; he has performed as a soloist with various orchestras including the OR. R. T., l 'Orchestra dell' Accademia Nazionale di Santa Cecilia, The Musical Afternoons, under the guidance of directors such as M.-Whun Chung, Sir A. Pappano, C. Poppen, K. Nagano.
He also performed the Italian premiere of the Concerto for Cello and Orchestra HK Gruber under the guidance of the composer himself, and for the first time in the history of 'Orchestra dell' Accadema Nazionale di Santa Cecilia's concert under the direction of F. Gulda K . Jarvi.
In 1997, in Paris, at the International Competition "M. Rostropovich," he obtained a special prize for the best performance of the song "Spins and Spells" by K. Saariaho, in 1998 he won the competition for the 1st cello at the 'ORT Florence and in 1999 it is stated in the competition for the 1st cello at the Orchestra dell 'Accademia Nazionale di Santa Cecilia in Rome, place that still holds.
He collaborated with famous d 'conductors such as M.-Whun Chung, G. Sinopoli, W. Sawallisch, Y. Temirkanov, L. Maazel, C. Abbado, R. Muti, G. Pretre, M. Rostropovich, D. Cats , G. Dudamel, V. Gergiev, K Masur, Sir JE Gardiner and chamber performances with Chung, A. Lonquich, R. Prosseda, A. Carbonare, S. Shoji, R. Christ, L. Kavakos, M. Brunello, M. Argerich, G. and D. Braunstein Wasckiewicz.
He has worked as 1st Cello with the 'La Scala Philharmonic Orchestra, the Symphonic Orchestra of Italy and collaborates regularly with the Mozart Orchestra, the Mahler Chamber Orchestra and the Orchestra of the Lucerne Festival at the invitation of Claudio Abbado. He has recorded for La Bottega Discantica and Decca.
He plays a cello "Carlo Giuseppe Oddone" of 1903.
---

Jens Peter Maintz
Jens Peter Maintz he studied with David Geringas and received further artistic impulses in master classes with Heinrich Schiff, Boris Pergamenschikow and Siegfried Palm. In 1994, he won the ARD competition in Monaco of Bavaria. He then served as principal cellist of the Deutsches Symphonie Orchester Berlin until 2004. Since then, Jens Peter Maintz is a professor at the University of the Arts.
His solo career has brought him to play along with leading conductors such as Vladimir Ashkenazy, Herbert Blomstedt, Marek Janowski and Franz Welser-Möst. For many years, he was a member of the Trio Fontenay, as well as the Casals Quartet, the Artemis and the Auryn Quartet.
He then played chamber music with artists such as Kolja Blacher, Isabelle Faust, Janine Jansen, Hélène Grimaud and Wolfram Christ.
Since 2006 Jens Peter Maintz is principal cellist of the Lucerne Festival Orchestra.
---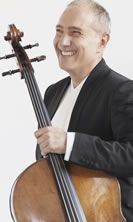 Asier Polo
Asier Polo was born in Bilbao, Spain where he studied at the Conservatory of Music with Professor Elisa Pascu. In 1987-89, he won first prizes in cello and chamber music at the National Young Musicians Competition. Later, he studied at the Queen Sofia School in Madrid, and honed his innate talent with Maria Kliegel at the Hochschule fur Musik in Cologne and with Ivan Monighetti at the Basel Academy of Music. Mr. Polo has participated in master classes with Natalia Gutman and Mstislav Rostropovich. During his studies in Cologne and Madrid, he also studied chamber music with the Amadeus Quartet and members of the Italian Quartet.
Since then, he has appeared as soloist and in recitals in Europe, Asia and America. He has performed with such artists as Maria Kliegel, J. Colom, Gerard Caussé, Janacek Quartet and the famous Spanish tenor Alfredo Kraus, who, during his last years, invited Asier Polo to appear as soloist in his concerts at Covent Garden in London and Maggio Musicale in Florence, Tonhalle in Zurich, Musikverein in Vienna and Japan.
Mr. Polo is fast becoming one of the leading cellists of his generation, renowned in his native Spain as well as in other European countries. He has toured South America with the National Orchestra of Spain with Raphael Fruhbeck de Burgos conducting, and has concertized with the Opera Orchestra of Nice, the National Orchestra of Bordeaux, Prague Chamber Orchestra, Basel Philharmonic, the Monterey Symphony Orchestra, the Israel Philharmonic, Berliner Symphony Orchestra, Bergen Symphony Orchestra, Dresden Philarmonie, London Philarmonie, Orchestra Sinfonica Nazionale della RAI de Torino, Mineria Symphony Orchestra (México DF), Norway Radio Symphony Orchestra, Orcheste de París (Salle Pleyel), Sao Paulo Symphony Orchestra (Brasil) among many others. Some of the conductors, with whom he has appeared as soloist, are Christian Badea, Claus Peter Flor, Gunther Herbig, Anthony Witt, Carlos Miguel Prieto and invited in Festivals like Quincena Musical de San Sebastián (Spain), Ohrid (Yugoslavia), Nantes (France), Omaggio a Roma (Italy), Expo de Lisboa (Portugal), Festival Internacional de Música de Morelia (México), etc…
In 2004, he has played with great success in his Carnegie Weill Hall debut in New York receiving an excellent musical critic at the Strad Magazine.
Asier Polo has recorded for CLAVES, ET´CETERA, RTVE, MARCO POLO and NAXOS labels playing different music from : S.Gubaidulina , Recitals, and different Spanish cello concertos from Bernaola, Rodrigo, Escudero… Spanish composers G. Ercoreca, Luis de Pablo and Antón García Abril, J. Villarojo have all dedicated works to this outstanding musician.
It has been awarded with diverse prizes in Spain for musical interpretation like: "Ojo crítico" National Radio (2002), Prize Fundation C.E.O.E. (2004).
At present, he teaches at the High School of Music of the Basque Country, "Musikene." In San Sebastian. (Spain).
Invited for Master class in different countries (Italy, Germany, Holland, México, Venezuela,...) and regular member of Jury in national and international Cello competitions ,( Carlos Prieto competition, Dotzauer Wettbewerb, Jugend musiziert,...)
Asier Polo plays on a Francesco Rugieri violoncello (Cremona 1689) bought in collaboration with Banesto Fundation.
---
---
Assistants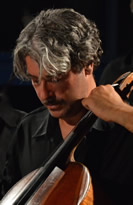 Andrea Agostinelli
Graduated with the best marks at the Conservatory "G. Rossini" in Pesaro under the guidance of Sante Amadori. Then he has attended international courses held by Franco Maggio Ormezovsky and Enrico Dindo.
From 1987 to 1992 first cello of the Ancona Chamber Orchestra.
In 1993 first cello of the Italian Youth Orchestra and winner of the auditions at thr LaVerdi Orchestra in Milan where he plays the great symphonic repertoire with conductors as V. Delman, G. Akoka, P. Entremont, G.A. Noseda.
In 1995 he wins the auditions at the Orchestra Regionale delle Marche FORM with G. Kuhn where he remains until 2001.
In 2003 he is guest at the Settimane Musicali di Stresa for the concert "8 cellos with Enrico Dindo" and in 2004 he becomes member of the chamber orchestra "I Solisti di Pavia".
As first cello he regularly works with the orchestras of important opera and symphonic institutions and also his intense activity in chamber music took him on the most prestigious stages alla over the world.
Eclectic musician, his intense activity spaces in different musical genders such as Jazz, Pop, Rock, Celtic, Tango.
At the moment he is First cello at the Orchestra Internazionale d'Italia and Colibrì Ensemble and member of the prestigious orchestra "I Solisti di Pavia" and "Colibrì Ensemble" where he is the other First Cello.
He is tutor of the cellos at the Orchestra del Teatro Olimpico di Vicenza and Orchestra dell'Estate Musicale Frentana.
Since 2008 he is the cellist of the "Quartetto delle Marche" where he had the chance to collaborate with musicins as Hansjorg Schellenberger (Primo Oboe Berliner Philarmoniker), Francesco Di Rosa (primo oboe Orchestra di Sanra Cecilia), Dante Milozzi (primo flauto Orchestra RAI), Lorenzo Di Bella (Primo Premio al concorso pianistico Horowitz di Kiev).
He is cello teacher at the Conservatory "G. Paisiello" in Taranto.
---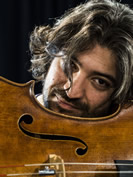 Jacopo Di Tonno
Born in Naples in 1977, Jacopo Di Tonno begins to study the cello at the age of nine and graduates with full marks (10/10 cum laude) from the "L. D'Annunzio" Conservatory in Pescara.
He refines his skills with Radu Aldulescu in Spain and E. Dindo and improves his skills in the field of chamber music with P. Farulli of the Alban Berg Quartet.
He becomes the first cello of the "Orchestra Giovanile Italiana".
He completes the two-year course with full marks (60/60 with honors).
He boasts collaborations with conductors, such as R. Muti, G. Sinopoli, N. Marriner, C. Hogwood, G. Noseda, L. Berio, L. Pfaff, C.M. Giulini, M. Honeck, N. Luisotti and more.
When he is only twenty-one years old, he is appointed as first cello at the "Teatro Regio" in Turin and from that moment on he starts working with the most renowned orchestras in Italy and abroad.
He collaborates with Master E. Dindo in chamber music concerts and record projects.
He is the first cello of I Solisti di Pavia, with which he performs during the most prestigious international concert seasons.
He is a member of the arts commission and the first cello of a new Italian music excellence, the "Colibrì Ensembe" (http://www.colibriensemble.it), which has become in little more than two years a more and more important Italian reference figure both for its artistic relevance, thanks to the collaborations with artists such as Alexander Lonquich, Daniele Rustioni, Francesca Dego, Enrico Dindo, Felice Cusano and Alessandro Moccia, and its new way of handling the project. The contribution and the willingness of his patron, Ms. Gina Barlafante, have played a pivotal role.
He performs in many concerts, including solo concerts, and features in recordings for Decca Italia, Harmonia Mundi, Brilliant Classics, Trito', Velut Luna, Radio3, Sky Italia, Sky Arte and Rai Radiotelevisione Italiana.
He is the cellist of the "Trio Bettinelli" (I. Cusano violin., D.Cusano piano), with which he performs in important concert seasons.
He collaborates as cellist tutor with the "Orchestra Giovanile Italiana" of the Music School in Fiesole and with the "Orchestra del Teatro Olimpico" in Vicenza.
In July he will be teaching cello in the training courses of Sauze d'Oulx 2017 and in August he will be the low strings teacher for the "Orchestra Giovanile Fenaroli" in the summer courses of the "Estate Musicale Frentana".
He is a cello teacher at the "F. Cilea" Music Conservatory in Reggio Calabria.
---
---

Young-Chang Cho

Thomas Demenga

Rocco Filippini

Frans Helmerson

Gary Hoffman

Maria Kliegel

Antonio Meneses

Antonio Mosca

Massimo Polidori

Gustav Rivinius

Giovanni Sollima
---
Monica Cattarossi
- pianist
Monica Cattarossi was born in Treviso and made her musical studies in her city, obtaining very young the diploma at "B. Marcello" Conservatory of Venice. After taht she continued her piano studies with M° Jacques Rouvier, M° Konstantin Bogino by the International Improving Academy of Portogruaro and Chioggia, and with M° Andrea Lucchesini by the International Improving Academy of Sesto Fiorentino.
She won many National and International Piano and Chamber Music Competitions (such as "M.del Vecchio" - Genova, "B. Pasquini" - Pistoia, "II Forum Pianistico Città di Chioggia", Pinerolo, "Serato" - Castelfranco Veneto, Palmi). As soloist she played with the Orchestra Giovanile of Treviso, the Chamber Orchestra of Verona and that of Genova, the Orchestra Giovanile Bulgara, the Festival Orchestra of Chioggia, the Orchestra "G. Verdi" of Milano. She was invited for playing in several Festivals, such as St. Riquier, Montpellier, Chamber Music Festival of Kuhmo, Festival delle Nazioni of Città di Castello, Festival Pontino, Asiago Festival. She has performend in several famous concert halls, such as La Pergola - Firenze, Palazzo Ducale - Genova, Teatro Comunale - Treviso, Palazzo Labia - Venezia, Sala Verdi and Auditorium San Gottardo - Milano, Beethoven Saal - Wien, Kuhmo Hall - Seoul, Carnegie Hall - New York.
In the last few years she has been specializing in chamber music repertoire and has played with various groups. She has been accompanist pianist for improvement courses given by Julius Berger, Mario Brunello, Simonide Braconi, Bruno Cavallo, Ana Chumachenko, Guido Corti, Enrico Dindo, Rocco Filippini, Thomas Friedli, Peter-Lukas Graf, Gordon Hunt, Michail Kugel, Alain Meunier, Antony Pay, Massimo Quarta, Danilo Rossi, Dora Schwarzberg, Pavel Vernikov. Many of these Maestri have chosen her for duo or chamber music concerts.
Her name is on the artists list of the Gioventù Musicale d'Italia.
She is official accompanist pianist of the Concorso Internazionale for Violin "R. Romanini" of Brescia and that for Cello of Markneukirchen, "A. Curci" of Napoli, "Rassegna Amati" of Cremona, "L. Mozart" of Augsburg. She received the Diploma for the best accompanist pianist of the "A. Janigro" International Music Contest, and her collaboration is required by the High Improvement Academies of Brescia, Cremona, Pinerolo, Pavia Cello Academy and by the Summer Courses of Tibor Varga Academy in Sion, Salzburg Mozarteum and of Neuburg am Donau.
She has recorded for RAI and Radio France.
In 2006 she graduated with first class honours in Musical Philology by the University of Cremona.
---